Three Ways Hospitals Benefit from Today's Patient Smart Rooms
Smart technology is showing up everywhere.
In our living rooms, where we can adjust lighting or play music automatically and remotely.
In our travels, where apps and personal assistants guide our routes and warn us of traffic delays.
In our daily schedules, where predictive analytics smartly remind us of recurring appointments.
And in the highest performing hospitals, where smart technology is changing the hospital experience for the better – for both patients, and staff.
Ultimately, the goal of smart technology is to help us function more efficiently, take unnecessary work off of us, and improve our daily life experiences. Here are three key ways that hospitals are benefiting from today's patient smart rooms.
TURNING THE TV INTO ENGAGING EDUCATION
On average, hospital patients have their patient room television on from 11 to 13 hours every day they are in the hospital. That is according to Samsung, with whom Sentrics has partnered for years to deploy smart TVs in hospitals across the US.
What better opportunity to communicate and interact with the patient than on the device they are watching all day and night?
"Healthcare TVs have the potential to enhance the in-room entertainment experience by integrating EHR information to serve up relevant content related to procedures and recovery," says David C. Rhew, M.D., Samsung's chief medical officer. "The technology also tracks patients' engagement rates so they can be prompted to view more information as needed."
In late 2012, Northern Westchester Hospital in New York began rolling out smart technology to its patients using Sentrics' E3 interactive patient engagement solution. Through it, patients can access TV, Internet, movies and games; lab and radiology reports; medication, nutrition and dietary information, and discharge instructions; as well as ambient noise reduction videos and soundtracks to reduce noise interruption and help manage pain. In addition, patients can request services and provide real-time feedback to hospital departments, enabling staff to address and resolve patient concerns quickly.
From 2012 to 2017, NWH patient ratings for room quietness jumped 15 percent and for staff responsiveness by 12 percent. Medication communication ratings gained 11 percent. Nurse communication scores improved by 8 percent, while discharge planning scores improved by 6 percent. Patients gave the hospital an overall rating 9 percent higher in 2017, than in 2012 before the E3 Solution was implemented. The Sentrics solution is one of several initiatives the hospital has implemented to improve patient experience and health outcomes.
"Phase one of our interactive system is proving to be a significant contributor to improved patient experience at Northern Westchester," said George Weldon Jr., LMHC, NCC, director of telecommunications. "Our intent is to now expand patient education and patient engagement capabilities by putting patients' clinical health information directly in their hands through E3."
PUTTING PATIENTS IN CONTROL OF THE HOSPITAL EXPERIENCE
Smart technology captures and transmits data across disparate hospital systems and platforms.  In so doing, it takes nurses and other staff out of routine tasks that now the patient can control directly. That leads to improved patient satisfaction.
Take for example, meal orders for the patient or a room visitor. Through the Sentrics E3 smart integration with the hospital's dietary system, the patient in a Sentrics-enabled smart room no longer has to wait on an aide to bring the daily paper menu to place a meal order. Or use the nurse call button to interrupt a busy nurse with a food request.
Instead, Sentrics' smart room screens let the patient view menus and nutritional content 24/7 on the television, bedside monitor or tablet – and order meals directly on the screen. Through integration with the patient's electronic medical record, the nurse can even automatically restrict the menus displayed  based on the patient's dietary restrictions.
When Phelps Memorial Hospital in New York implemented Sentrics' interactive smart room menus, the hospital achieved an annual savings of 8,700 staff hours while HCAHPS ratings jumped 14% higher than its patient experience benchmarks.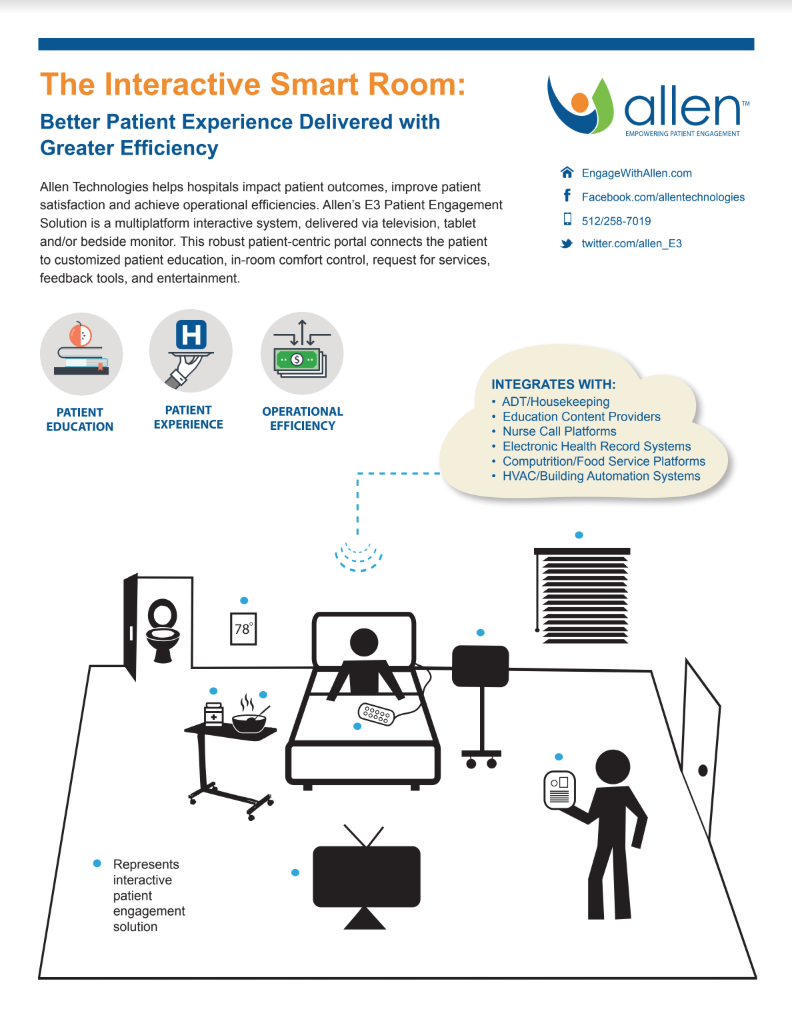 IMPROVING HOSPITAL EFFICIENCY
Similar smart integrations between Sentrics E3 and hospital building automation systems let patients control their room temperature without calling a nurse. Patients can raise and lower their window blinds directly from their TV, without getting out of bed. Integrations between Sentrics' smart solution and ADT platforms tell housekeeping when a patient room has been vacated, without staff having to round patient floors to monitor occupancy.
Smart integrations like these translate to dollars saved in hospital operating budgets. Deploying the E3-ADT integration at Henry Mayo Newhall Hospital resulted in the hospital reducing its bed-turn time by 30 minutes.  By automating and speeding reassignment and occupancy of patient rooms, the hospital gained revenue previously lost when rooms remained unoccupied.
And the 300-bed El Camino Hospital saved more than $100,000 in one year through E3's smart integration with the hospital's HVAC system. "Over a 12-month period, patients adjusted their room temperature through E3 more than 123,000 times, resulting in dramatically decreased nurse and staff interruptions related to temperature change requests and adjustments," says Marty Kobaly, technical projects manager.QUESTIONS? CONTACT SENTRICS
Learn how Sentrics smart-room interactive solutions can improve patient engagement, enhance patient satisfaction and optimize hospital efficiency.