5 Things To Know About Hospital Smart Rooms
Hospital smart rooms are disrupting traditional patient room designs.  They also are transforming the traditional patient experience.
The traditional patient experience is one in which the patient has very little control or say over anything related to his or her room environment. And one that does not do a very good job of maximizing all the dollars a hospital has invested in its different systems.
Hospital smart rooms bring together the capabilities of the hospital's many technology platforms to create a seamless, streamlined patient experience. No two smart rooms are alike, for good reason. "The best digital hospital rooms are designed with a hospital's specific patient population in mind, featuring different tools that will make the care experience better for that demographic," writes Patient Engagement HIT editor Sara Heath.
No matter the patient mix, however, hospitals prioritizing patient experience, patient safety and operational efficiency can expect smart rooms to deliver several business-critical benefits. Here are five reasons to adopt hospital smart rooms.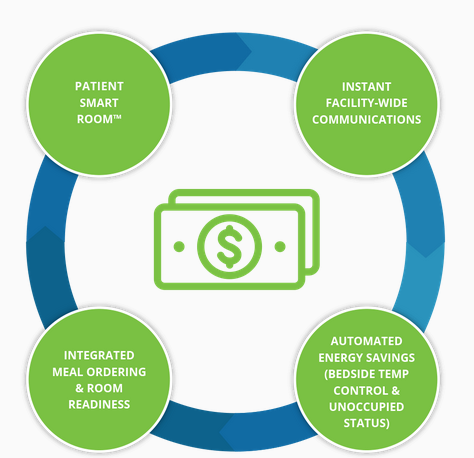 PATIENTS ENJOY GREATER CONTROL OF THEIR ROOM ENVIRONMENT
Sure, going to the hospital is not like a stay in a hotel. But the more a hospital can create a consumer-focused experience, the happier patients are. Hospital smart room technology puts the patient in greater control of their environment – in the same way they expect while in a hotel room environment. Digitally integrating the hospital's HVAC and housekeeping platforms with the patient's smart television, the patient can personally control the room temperature, raise and lower window blinds, request an extra blanket or pillow, or order meal service.
PATIENTS HAVE LESS NEED TO GET OUT OF BED, REDUCING FALLS
Patient falls are costly for both the patient and the hospital. The Agency for Healthcare Research and Quality estimates between 700,000 and 1,000,000 patients fall in U.S. hospitals annually. One-third of those, it says, can be prevented.  One way to reduce falls is to reduce the reasons why a patient would need to get out of bed.  Hospital smart rooms do just that, by putting many routine tasks at the patient's fingertips while in bed. No need to get up to turn a light off, or adjust the thermostat. By empowering the patient to do simple tasks from the bed, hospitals reduce the potential that a patient will experience a fall.
HOSPITALS MAKE BETTER USE OF EXISTING IT SYSTEMS
Hospitals invest heavily in technology to meet regulatory requirements and to provide higher levels of care. Not only are electronic medical records and computerized point of entry platforms huge dollar investments. Hospitals also are putting significant financial and IT staff resources into platforms like admission, discharge and transfer (ADT) systems; food service software; building automation systems/HVAC systems; housekeeping platforms; nurse call capabilities – the list goes on.
Making those systems interoperable lets them efficiently share data, support workflows that enhance staff productivity and ensure that the hospital is using its IT investments to the greatest degree possible. A hospital smart room that integrates the EMR into a patient room white board seamlessly improves patient communication with little nurse intervention needed. A hospital smart room that integrates the HVAC system with the interactive smart TV can save six figures in energy costs in a single year. An integration between the ADT and the interactive smart TV can speed bed turn times and reduce the wait time for patients to be admitted by 30 minutes. And, integrate your food service software into the smart room, and your nurses could gain back at least five hours per month in time they once spent taking patient meal orders.
PATIENTS AND PROVIDER COMMUNICATION IS BETTER
Consistently, patients' number one complaint about their hospital stay is lack of communication. Smart room features like digital white boards and interactive TV's personalized push notifications change the communication game. These tools integrate with EMR and other platforms to put usable, understandable, patient-centric data and information directly in the patient's hands.
Without leaving the bed, the patient and family can view test results and personal health information, read up on medications, view educational videos on their condition and care. They can also go through their discharge plan and checklist on the TV, bedside monitor or tablet.
Putting all that information directly in their hands addresses the things that patients say are most important to creating a better experience. And, it frees up nurses to have more time at the bedside to answer questions and provide personal communication that is important to patients.
NURSES HAVE LESS NURSE CALL FATIGUE
In a traditional hospital room, the nurse call button is the lifeline to the patients' every need – food orders, temperature changes, housekeeping and miscellaneous requests – and, of course actual patient care needs.
The hospital smart room is a proven way to take the nurse out of fielding non-clinical patient requests and reduce the associated nurse call fatigue.  One California hospital found that over a one-year period, patients used its smart room features 123,000 times to adjust their room temperature.  That translates to 337 fewer nurse calls per day.
Factor in fewer calls to staff for dining menus or for blankets, or for other comfort requests made possible by an integrated smart room solution, and the positive impact to nurses' workload is clear.
Get a first-hand look at smart room technology. Contact Sentrics for an online or in-person demo.