One Hospital's Sentrics E3 Story to Patient-Centered Care
Seven years ago, Northern Westchester Hospital in Mount Kisco, New York, came to Sentrics Technologies with a challenge not uncommon to most hospitals. The 245-bed Northwell Health facility wanted to empower and engage its patients in their treatment. It was looking for innovative ideas – and sought a technology partner with the creative chops and an innovation track record to achieve it.
Innovative technology to improve the patient experience
As a Planetree-designated and Magnet-certified hospital, Northern Westchester's commitment to patient-centered care runs deep. The hospital measures outcomes and develops patient-centered care models that can be replicated in other healthcare organizations around the world.
It found the ideal technology partner in Sentrics and its E3 interactive patient engagement solution. Together, the hospital and Sentrics team explored concepts, and ultimately landed on what was then a revolutionary concept:
Interactive patient engagement on hospital-provided tablets that patients could use throughout their stay.
The Patient Access Tablet, dubbed PAT, gave patients access to entertainment, education, and their medical record information via a bedside tablet. The Sentrics tablet solution marked the industry's first interactive patient engagement solution offered on a tablet, one of many firsts that Sentrics has achieved in its 40 years of patient-centered technology.
A profound patient engagement concept

"It was a profound concept, and while there was usage, it was not optimal," said George Weldon Jr., LMHC, NCC, the hospital's director of telecommunications and a key member of the project team. "Why? Simply put: We were competing with the ever-changing world of tech, and often, our patients would come in with their own smart devices."
So, in 2018, the hospital and Sentrics entered a visioning stage, he said, "to determine how to be 'truly innovative' and 'truly connected' with our patients."
The answer:
Leverage the smart capabilities of patient room televisions for delivering engaging, educational, and entertaining patient-centric content.
Through the E3 smart TV solution, Northern Westchester patients can access:
TV programs, Internet, movies, and games
Lab and radiology reports
Medication, nutrition, and dietary information
Discharge instructions
Ambient noise reduction videos and soundtracks to reduce noise interruption and help manage pain
In addition, patients can request services and provide real-time feedback to hospital departments, enabling staff to address and resolve patient concerns quickly.  In just four months after launching on smart TVs, 1,631 patients used the E3 solution to submit real-time requests or feedback.
Impressive Impact to HCAHPS, Value-Based Revenue
Since implementing Sentrics' solution, the Northwell Health hospital has notched impressive improvements in its Hospital Consumer Assessment of Healthcare Providers and Systems (HCAHPS) scores, HCAHPS have improved in every category – three by double digits. The hospital also has garnered nearly $550,000 in Medicare incentive payments for its high performance.
"Phase one of our interactive system is proving to be a significant contributor to improved patient experience at Northern Westchester," says Weldon. "Our intent is to now expand patient education and patient engagement capabilities by putting patients' clinical health information directly in their hands through E3."
Next phase implementations include launching an integrated digital whiteboard with two-way communication and implementing real-time updates from the patient's electronic medical record.
Weldon shared Northern Westchester Hospital's E3 successes at the Planetree International Conference in October. Click below to see his poster presentation infographic for more details on the Sentrics E3 solution at Northern Westchester Hospital.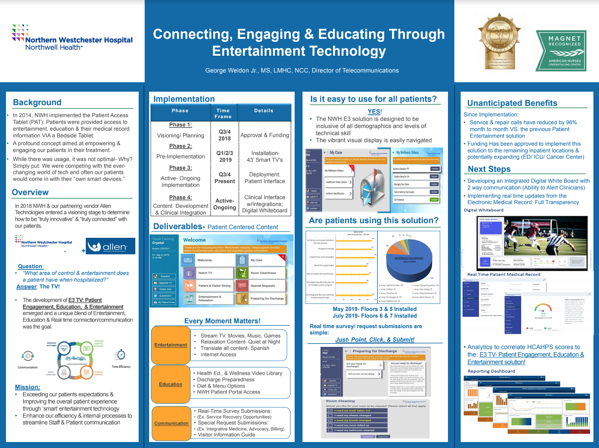 Sentrics has been innovating patient-centered technology for 40 years. If you want to improve patient satisfaction and engagement, we make it easy.
Learn more at www.EngageWithAllen.com