Improve Communication in a Hospital
In the pre-COVID world, healthcare professionals were able to spend more time with one another and their patients. The ability to convey and exchange clear, accurate information face-to-face played a critical role in producing positive patient outcomes and experiences.
But then COVID struck and everything changed.
The pandemic has created a host of new challenges in patient communication, particularly for hospitals that lack interactive communication systems.
Now, improving communication in a hospital is more important than ever. Touchless, interactive solutions, such as digital whiteboards and digital signage, are critical for hospitals to share information faster and seamlessly.
PATIENT CONFIDENCE NEEDS REBUILDING
In a time rife with uncertainty, patients are more nervous about hospitals than they were beforehand.
Hospital visits are down across the country. This is largely because patients fear that their visit will result in them catching the virus:
There are reports of people turning down life-saving organ transplants.
In California, emergency department volume was down 50%.
A survey of nine major hospitals across the country discovered that heart attack treatments had decreased 40%.
So, how can hospitals rebuild patient confidence and trust?
WHY PATIENT COMMUNICATION IS CRITICAL DURING THIS TIME
When it comes to instilling confidence and trust with patients, communication is key; that means communication from the moment a patient enters the hospital to post-discharge.
It's human nature to fear what we don't know or understand. The same holds true  for patients returning to the hospital for treatment.
To help patients feel comfortable, hospitals must purposefully provide them with a steady stream of information.
Fortunately, there are plenty of places where you can utilize interactive solutions to accomplish this, whether it's in the waiting room lobby or the hospital room.
HOW INTERACTIVE SOLUTIONS CAN HELP
In light of the current challenges hospitals face, digital interactive solutions may be just the thing they need to optimize workflows and instill a sense of confidence. Digital whiteboards and digital signage in particular can help in three major ways:
Keeping patients informed
Improving communication between hospital staff and patients
Improving communication among hospital staff
DIGITAL SIGNAGE
Hospitals are a 24/7 business. They experience a constant influx of patients, visitors and staff. When visiting a hospital, all of this activity—combined with an unfamiliar setting—can add confusion to what might already be a stressful situation.
Digital signage helps to streamline and seamlessly deliver visitor and staff communication.. Doing so not only helps calm hospital visitors but also helps busy hospital employees keep informed and engaged.
78% of patients actively seek out digital communication solutions. This includes powerful tools like digital signage. In addition, 83% of patients report spending a "significant amount of time" interacting with those resources.
It can be deployed in a number of useful ways:
Improved visitor education and safety – Patient Education and safety videos, static messages, and emergency information can be deployed in public spaces to help keep visitors informed from the outset about your safety practices. This demonstrates to visitors that their health and safety is your utmost priority.
Instant communication – Dynamically delivered content in check-in areas and waiting rooms can provide patients with all of the relevant information they need, including:

Wait times
Hospital events
Available hospital services
For families, such information can reduce anxiety, provide an entertaining diversion while waiting and instill confidence in the hospital. e. Best of all, the messages can be changed in an instant or contain multiple messages on a single screen.
Wayfinding – Bustling hospitals can be overwhelming and confusing when it comes to finding your way around. Navigation via digital signage can direct visitors throughout the facility, making it easier for them to check-in or find a room. Studies show that independent wayfinding reduces costs, since staff spend less time being interrupted during crucial tasks.
Reduce perceived wait times – By providing visitors with engaging information or entertainment, hospitals can transform the waiting room from a sterile and boring experience into one that's engaging. Studies have demonstrated that digital signage in waiting areas can reduce perceived wait time by as much as 35%.
Better communication between staff – In a fast-paced, around-the-clock care environment, keeping healthcare teams across all shifts informed can be a challenge. Digital signage can keep healthcare workers informed with critical information, real-time updates, or general alerts. This improves internal communications, thus improving hospital efficiency and reducing mistakes.
DIGITAL WHITEBOARDS
In the past, nurses used traditional, dry-erase whiteboards to share vital information with patients. Although this was originally intended to increase patient involvement and communication between the patient and staff, this old-school method has become obsolete.
Nurses don't have the time to continuously update whiteboards manually from one shift to the next. On top of that, due to COVID, modern hospitals are striving to effectively manage the use of PPE and reduce unnecessary patient room visits that require the staff to "gown up."
Today, patients require:
An easy way to ask questions and clarify their care plan
Constant access to personal medical information and their care team
A discharge plan that clearly explains their treatment plan
Digital whiteboards are the key to all of this and more. Benefits include:
Help staff communicate effectively – By seamlessly integrating the digital whiteboard with the hospital EMR, patients gain real-time updates on care. This alleviates much of the fear of the unknown. This also allows staff to use their time more efficiently, empowering nurses to spend more time in patient care rather than updating dry erase boards and tracking down missing markers.
Decrease the risk of medical errors – Digital whiteboards can display patient medical information, care plan schedules, and pain scores. According to a study done at Vanderbilt University, whiteboards can "provide visual cues and quick access to relevant data, reducing potential administrative and clinical errors."
Reduce hospital readmissions – Data show that patients who are better informed about their post-hospital care are less likely to require a readmission.
Per Boston University, "Patients who have a clear understanding of their after-hospital care instructions, including how to take their medicines and when to make followup appointments, are 30 percent less likely to be readmitted or visit the emergency department than patients who lack this information."
Improved patient peace of mind – Digital whiteboards can be used to convey important healthcare  information to the patient.
This 24/7 real-time access to their health information, daily care plan, and care
team—all from the convenience of their television—goes a long way toward
soothing their fears and creating a great patient experience and improved HCAHPS scores.
SENTRICS E3: YOUR DIGITAL COMMUNICATION SOLUTION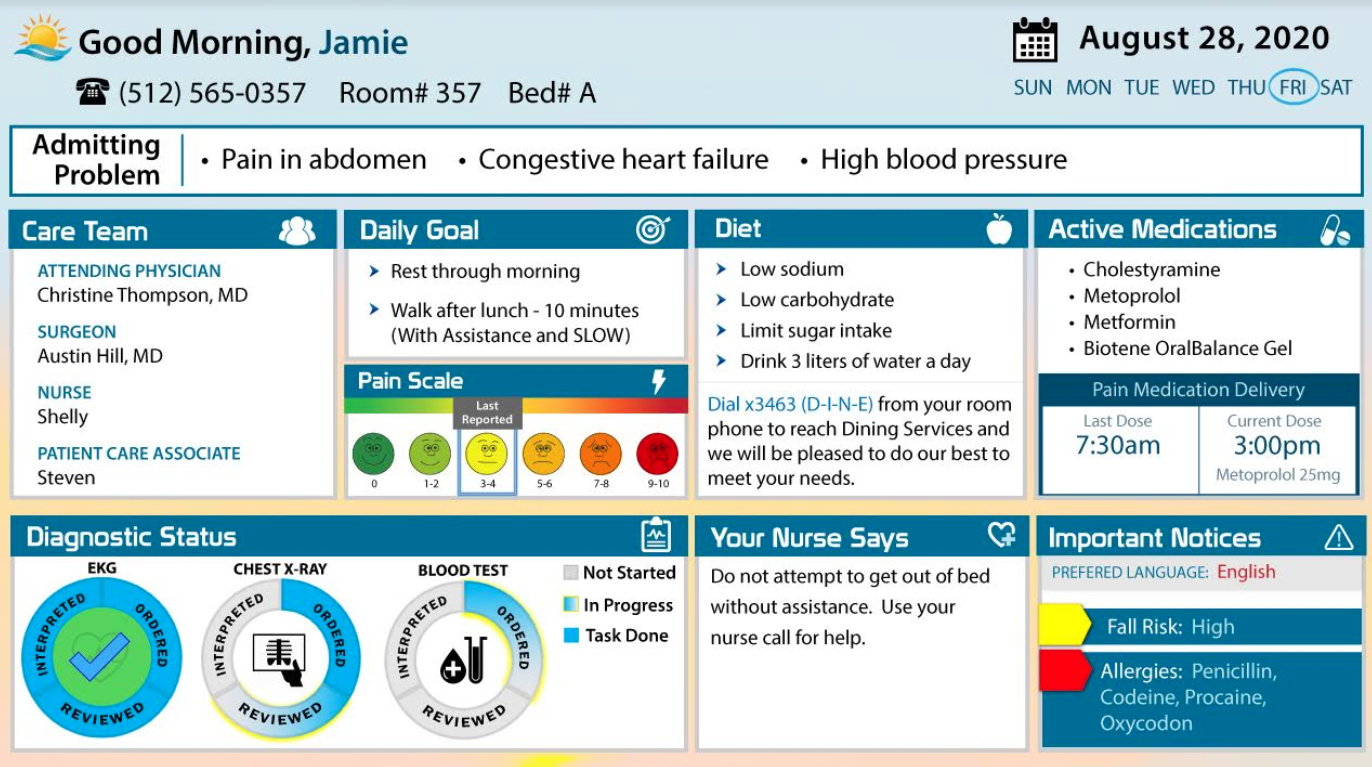 In a time of uncertainty, hospitals are turning to digital solutions to improve their communication both with staff and patients.
By investing in new communication channels like digital whiteboards and signage, hospitals have been able to improve the delivery of care, reduce patient fears, improve patient engagement, and increase HCAHPS scores—all of which leads to a better bottom line.
Learn how Sentrics' E3 patient experience platform can help your hospital transform the patient experience.
Sources: