Improving Patient Communication with Digital Whiteboards
It wasn't that long ago that teachers spent hours delivering lesson plans using what, then, was a creative new tool – the overhead projector.  However, what seemed like a good idea at the time has since fallen out of favor for a lot of reasons.
They required constant replacing of the lenses. Teachers had to keep up with markers and transparencies. Those clear sheets had to be wiped down after use, one more job for a busy teacher.  Students found them hard to read, and generally pretty un-engaging. While not completely extinct, overhead projectors have been sidelined by more effective, efficient, and engaging technologies.
In hospitals, the patient room dry erase boards are finding themselves in a similar plight. A decade or so ago, many hospitals began utilizing dry erase boards in patient rooms to increase patient involvement and communication between hospital staff and patients.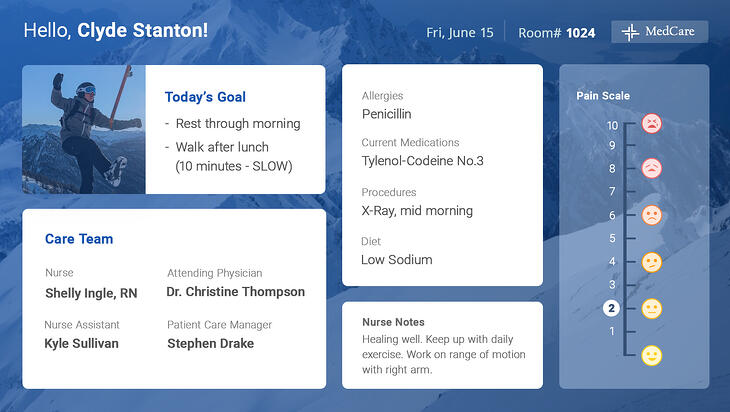 WHY DRY ERASE BOARDS FAILED
Like their classroom counterparts, dry erase boards never lived up to their potential. Nurses don't have the time to keep them updated. Bigger caseloads, shorter lengths of stay, and multiple job duties have reduced the amount of time nurses can spend at the patient bedside. Keeping a dry erase board updated from one shift to the next is a challenge in many busy nursing units.  In addition, hunting down lost markers and erasers takes even more time away from patients.
Furthermore, dry erase boards tend to wear out over time and need to be replaced every couple of years, which can become a costly expense.
ENTER THE DIGITAL WHITEBOARD
While dry erase boards fell short, the concept behind them is sound – to make communication between patients and nurses visual and accessible. That is why, increasingly, hospitals are adapting that concept to a digital whiteboard format.
Digital whiteboards provide a medium for staff to display pertinent information and updates in order to communicate more effectively. Digital whiteboards can reduce the risk of medical errors by visually displaying patient medication schedules, discharge information, and pain scores. Patients can also quickly reference staff names so they can address any questions or concerns promptly. Ultimately, digital whiteboards can lead to increased patient communication, patient engagement, and HCAHPS scores.
THREE REASONS TO USE DIGITAL WHITEBOARDS
Technological advancements have helped numerous hospitals nationwide improve patient communication and care. The Sentrics E3 interactive patient engagement solution offers hospitals a platform for digital whiteboards. Hospitals benefit in several ways:
Save Nursing and Staff Time. Through E3, the digital whiteboard can automatically be updated via a patient's electronic health record. This frees up nurses from spending time gathering patients' information and then manually updating boards.
Improve Patient Satisfaction. Nurses also don't have to waste time looking for lost erasers or markers. Instead, they can spend their valuable time with patients, activity that has been shown to improve HCAHPS scores.
Reduce Waste and Expense. Digital whiteboards eliminate the need to order ongoing supplies and replace worn-out boards every couple of years. That makes the ROI appealing for hospitals.
Patients want clear, easy-to-understand communication about their healthcare. A Sentrics E3 digital whiteboard enhances patient communication, improves their satisfaction, and improves staff and hospital efficiencies.
If your hospital is looking to improve patient communication, reduce unnecessary expenses and save nurses time, talk to us. Our E3 solution is helping hospitals across the U.S. deliver a better patient experience more effectively.
Learn more: www.engagewithallen.com