What Does It Take to Change the Patient Experience?
As hospitals look for ways to intersect people, processes and technology to improve outcomes, patient satisfaction and revenue, chief experience officers and, more recently, hospital docents (skilled volunteers) are playing that key role.
Industry leaders say: people, processes & technology
More than half of hospitals now have a chief experience officer. A 2017 survey by The Beryl Institute found that 58 percent of hospitals surveyed employ a chief experience officer or CXO, up from just 22 percent in 2013.
In addition, hospitals like Dignity Health MRMC in California are including docents in their patient experience improvement arsenal. There, docents bring empathy and a service orientation that enables them to connect with patients both before admission as well as during and after their stay. The model is showing results: a recent report at the HIMSS 2018 conference showed that patients who engaged with a docent rated their hospital experience 12 percent higher than those without docent engagement.
The focus of industry leaders
So, what are the top priorities of patient experience leaders? A recent Next Generation CXO study found that among chief experience officers' top priorities this year, improving the experience culture and improving patient experience scores ranked at the very top. And while improving the experience spans the full healthcare continuum, most (85 percent) CXOs are tasked primarily with inpatient improvement responsibilities.
Moving that needle on patient experience takes effort on a number of fronts, not the least of which is leveraging technology in innovative ways that change how patients interact with their own health.
Stacy Palmer, Beryl senior vice president, recently noted that,
"Technology is bringing about a fundamental shift in the way in which we think about experience overall — whether through virtual visits and telemedicine, access to records, text message reminders, video discharge, etc."
The value of giving patients control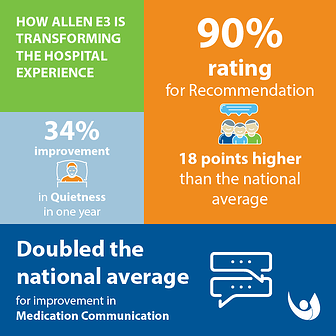 While having the personal connection to a docent or chief experience officer can impact how a patient perceives their stay, making a patient's stay more pleasant hinges on non-human factors as well. Most importantly, in an environment in which the "customer" has very little control over their situation, any small steps to return control to the patient can be a positive.
Technology that lets the patient control their own room temperature, or order a snack when hungry, or watch a soothing video, or request an extra blanket – empowers the patient, provides more personal control over the environment, and makes for a more satisfying experience.
Interactive patient engagement solutions like the Sentrics E3 system help the patient feel in greater control, and provide a more hotel-like experience – while also reducing calls to the nursing staff for room comfort requests that take away from clinical care. Interactive patient engagement technology can be most effective when coupled with a patient-centric culture, dedicated staff like CXOs and docents whose sole job is creating a better experience, and workflows that give the hospital team a full 360-degree view of patient care.