Innovation in Interactive Patient Engagement
Nowadays, the term 'healthcare innovation' is becoming almost cliché. Everyone, it seems, is on the bandwagon to be known as an innovator, a disrupter. New companies and technologies are coming online faster than hospital management teams can adequately vet them.
Some stand to make a real difference in improving the patient experience and helping clinical teams become more efficient. Many other so-called innovations will fail the human-centered design test.
Innovation at the heart of E3 interactive care systems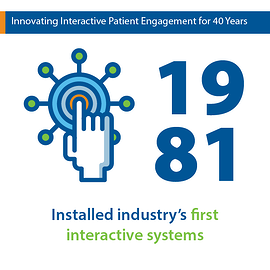 At 40 years old, Sentrics is no young upstart, and certainly no stranger to innovation. So when we talk about innovation and disruption, it's not because those are the trendy keywords of the time. We are focused on healthcare innovation because that is our DNA. It has been since we implemented the very first interactive patient engagement systems in hospitals in 1981.
That's the same year the original IBM PC Model 5150 was released, and MTV was launched. It may be hard to fathom, but back then, many hospital rooms were devoid of televisions. Those that had them often charged patients to use them. The idea of giving patients access to dozens of channels, watching a first-run movie, or surfing the Internet was, well, truly innovative.
As we talked with hospitals back then, it became clear that a patient room television could be a game-changer in entertaining and engaging patients. And long before HCAHPS and value-based care joined the healthcare lexicon, Sentrics' interactive patient engagement system was disrupting the status quo about what it means to deliver an exceptional care experience.
Transforming the patient room
Entertainment was the first step, but we quickly saw the potential for transforming a common device – the television – into an educational tool and a hospital cost-savings tool.  Enter innovative new features that let patients:
View lab results
Order take-home medications
Request a therapy dog visit over that device
And, so much more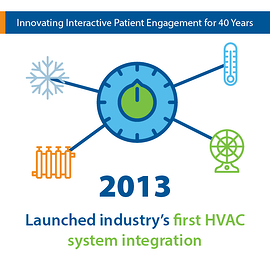 Fast forward over the years, and you'll see a track record at Sentrics that underscores our commitment to innovating for better patient care. In 2013, we launched the industry's first HVAC system integration. Our patient smart room technology disrupted the traditional, manual processes to change temperatures in patient rooms — a concept unheard of at the time. We're saving hospitals in the six figures annually in energy costs, dramatically reducing the number of "temperature-related" calls to nurses, and helping patients take control of their own room environment. That is human-centered innovation.
Sentrics was the first to bring interactive patient engagement to the tablet. We were the first to leverage hospital-grade smart TVs to take interactive patient engagement to even greater functionality. And today, we continue to be the only interactive patient care solution that is entirely modular and customizable, so that hospitals of any size and budget can benefit from our proven patient satisfaction and clinical efficiency solutions.
What's next?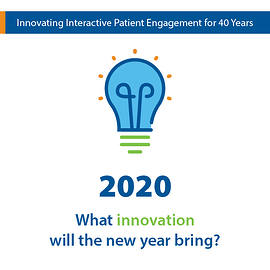 What firsts will 2020 bring in interactive patient engagement? You'll have to stay tuned to our blog and website as we bring the hospital market even more innovative solutions.
We believe that improving patient engagement doesn't have to be hard. Let us show you how in 2020. Here's wishing you happy and healthy patients, happy nurses, and a happy New Year!