Interactive Patient System Provides Fast, Targeted Communications When Infectious Diseases Strike
"Sentrics E3 digital messages were the fastest, most targeted and easiest way to communicate flu visitation restrictions."
Coronavirus is filling the headlines this month, but at the same time, influenza continues to be a serious health concern across the US. The CDC says that influenza has sickened at least 13 million Americans this season – and flu season hasn't peaked yet.  As they have during previous flu epidemics, many hospitals in hard-hit regions are implementing temporary visitor restrictions to help control the spread of flu and other infectious diseases. But making sure that the ever-changing flow of visitors, patients and staff is aware of those restrictions can be a major communications and management challenge.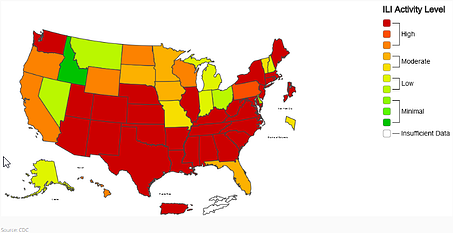 Technology that speeds communication
At Sentrics, we talk a lot about human-centered technology – technology that makes the users' job easier.  That is exactly what happened when Sentrics client El Camino Hospital in California faced the situation of communicating temporary visitor restrictions during a recent flu season.  The hospital team turned to an existing technology solution – their Sentrics E3 interactive patient engagement system – for a creative and efficient communications tool that saved staff time. Why not use the interactive patient engagement system on the patient room televisions to push out flu visitation updates?
Within 48 hours of learning of El Camino Hospital's challenge, Sentrics' digital messages were live on all 316 in-room televisions across the hospital. While El Camino continued using traditional communications vehicles like tent cards and signage as well, the hospital says the interactive patient system messaging on their Sentrics system was the fastest, most targeted and easiest to implement and manage.
Creating patient Smart Room™ solutions
It's just another example of how innovative hospitals are turning traditional patient room equipment, like a television, into hospital smart room tools that improve the patient experience and increase hospital efficiencies.
Learn more about how El Camino Hospital used the Sentrics Interactive Patient System on patient room televisions to push out flu visitation updates.