The Correlation Between Patient Education And Patient Satisfaction
Hospitals and nurses have long known that patients who are well educated about their health and treatment are likely to follow their care plan. With increased communication channels, patients are more likely to report better patient satisfaction, both of which positively impact health outcomes and hospital reimbursement.
This is the simple correlation between patient education and patient satisfaction. Today, modern hospitals are turning to interactive technology to address this need.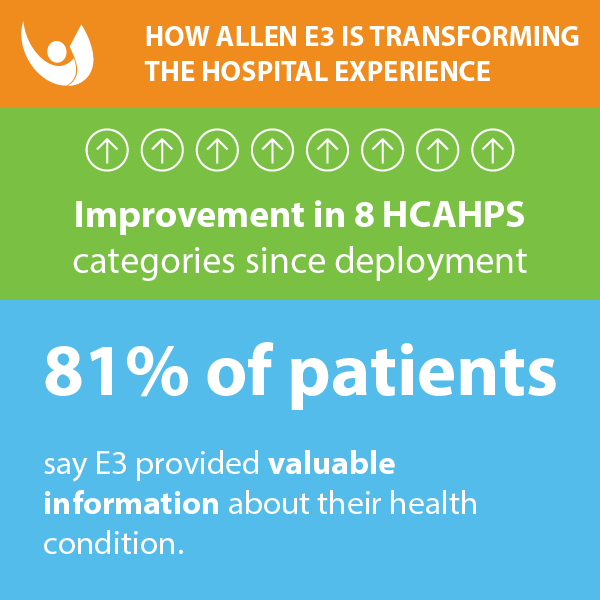 TECHNOLOGY TO HELP NURSES STREAMLINE THE PATIENT EDUCATION PROCESS
Patient education has always been one of the primary responsibilities of nurses. However, this poses several challenges:
Patients need to be educated at their own speed, and in ways that encourage retention and comprehension. A bedside nurse explaining a complex care plan or diagnosis can easily overwhelm a patient, especially one in pain, medicated, or stressed. The result? Inefficiencies for the nursing team, and patients who don't understand critical health information
Educational information must be consolidated, focused on essential concepts, and devoid of redundant resources. As consumers, we get personalized emails targeted to our individual preferences. We are served digital advertising content targeted to our interests. Patients-as-consumers expect customized, personalized, targeted information that is uniquely relevant to them; they want it in an engaging format that mimics how they consume other content: digital, interactive, and available anytime.
The staff's time is limited, The Nursing Standard Journal says, "Nurses are only able to spend between 35% and 46% of their day attending to patients face-to-face." That severely limits their available time to focus on bedside patient education.
THE VALUE OF EMR INTEGRATION
According to the Evidence-Based Handbook for Nurses, "Findings from several studies have indicated that patients who are involved with their care decisions and management have better outcomes than those patients who are not."
Integrating an interactive patient engagement solution like the Sentrics E3 with the electronic medical record (EMR) enables hospitals and nurses to expedite and improve the patient education process.
Through an interactive system like Sentrics's E3, nurses can choose and send health education videos for patients to view, based on their diagnosis. Once the patient views the videos, their action is written back to the EMR. All of that is done efficiently without ever leaving the EMR system that the nurse works in throughout a shift. No jumping between logins, or learning disparate platforms. Not only does that save the nurse documentation time; it also creates more bedside rounding time to use for follow-up and reinforcement of health information shared in the videos.
For patients, interactive and integrated patient education is patient satisfaction and patient education win, as well. Through a Sentrics/EMR integration, patients can easily access their personalized healthcare information directly from the patient room TV or on a bedside touch screen. No need to wait until a nurse rounds to get answers to health questions or learn more about the care plan or diagnosis. Directly at their fingertips from the patient bed, the patient can:
Watch, replay, and share educational videos specific to their diagnosis and medical factors
Communicate with staff, and provide immediate feedback on their hospital experience
Learn about their medications and even order take-home medications for delivery prior to discharge
View interactive health records, including vital signs screening, X-rays, scans, and lab reports
Access an interactive care whiteboard, which includes details on the patient's care team and contact info
Read discharge planning instructions
Review post-hospital care instructions
THE LINK BETWEEN PATIENT EDUCATION AND SATISFACTION
Increasingly, hospitals are recognizing the value of a patient-centered care model, which is defined by New England Journal of Medicine as, "The active collaboration and shared decision-making between patients, families, and providers to design and manage a customized and comprehensive care plan."
To have an active role in their care, patients need access to their relevant health data. The more informed they are, the healthier they'll be. In fact, according to Karen DeSalvo, acting assistant secretary of the Department of Health and Human Services, "Individuals with access to their health information are better able to monitor chronic conditions, adhere to treatment plans, find and fix errors, and directly contribute their information to research."
Is there a direct link between education and patient satisfaction?
In a word, yes. Multiple studies have indicated that patient education and satisfaction were positively correlated to patient empowerment. When patients are empowered, this leads to better care outcomes and patient satisfaction.
The experience of hospitals deploying the Sentrics E3 solution makes that clear. Sentrics's customers show significantly higher increases in patient satisfaction ratings than those of hospitals as a whole.
And while hospitals' mission is providing outstanding care, there is a business and financial benefit to better patient education and satisfaction, too. Medicare, Medicaid, and increasingly private payers base reimbursements in large part on patient satisfaction and fewer unnecessary readmissions. Our hospital clients are finding that their interactive patient engagement solution is helping them achieve significantly higher revenue streams – and avoid value-based penalties. In the seven years since deploying E3, one hospital alone has generated $549,981 in CMS Value-based Purchasing Adjustments, additional earnings that come as a direct result of the hospital's high patient satisfaction performance.
As the Healthcare Administrative Partners states, "When hospitals focus on improving patient satisfaction and experience, they can enjoy greater reimbursements that can then be used to further improve the quality of care they provide."
SENTRICS' PATIENT EDUCATION
Sentrics understands the importance of putting care in the hands of the patient. When patients are engaged and educated, they have a better understanding of their condition and are more likely to follow doctor and nurse recommendations.
Sentrics E3 is a user-friendly patient education and engagement platform that improves patient literacy about their condition, treatment and medications. It provides patients easy access to the medical and educational resources they need to take an active role in their care.
By empowering them, we empower you.
When you partner with Sentrics, you can expect five key benefits:
Closed-loop EMR integration
Single point of access
Improved patient satisfaction
Interested in finding out what Sentrics can do for you?  Contact us.
Sources:
ONS Voice. Tailored Education Improves Patient Satisfaction and Comprehension. https://voice.ons.org/conferences/tailored-education-improves-patient-satisfaction-and-comprehension
WebMD. Poll: Americans Fear Crippling Medical Bills More Than Illness. https://www.webmd.com/health-insurance/news/20180329/americans-fear-medical-bills-more-than-illness#1
Sentrics. Four Practical Ways Hospitals Can Improve Patient Experience. https://blog.engagewithallen.com/four-practical-ways-hospitals-can-improve-patient-experience
Nursing Standard. How Much Time Do Nurses Spend at the Bedside. https://journals.rcni.com/nursing-standard/how-much-time-do-nurses-spend-at-the-bedside-ns.24.52.14.s20
NCBI. Patient Safety and Quality: An Evidence-Based Handbook for Nurses. https://www.ncbi.nlm.nih.gov/books/NBK2672/
New England Journal of Medicine. What Is Patient-Centered Care? https://catalyst.nejm.org/doi/full/10.1056/CAT.17.0559
Health IT Buzz. Empowering Patients: New Videos to Promote Access to Electronic Health Information. https://www.healthit.gov/buzz-blog/consumer/empowering-patients-videos-promote-access-electronic-health-information
The Relation Between Patient Education, Patient Empowerment and Patient Satisfaction: A Cross-Sectional-Comparison Study. https://pubmed.ncbi.nlm.nih.gov/29422144/
HCAHPS. HCAHPS Survey. https://hcahpsonline.org/globalassets/hcahps/summary-analyses/individual-item-scores/january_2020_reporting_individual_question_top_box_us_means.pdf
Healthcare Administrative Partners. Tips to Improve Patient Satisfaction. https://www.hapusa.com/services/medical-billing/tips-to-improve-patient-satisfaction/