Connect Simply. Engage Fully.
Engage360℠ transforms resident TVs into a social, health and wellness engine that improves whole health, increases satisfaction, and enables more informed care decisions.
Whole-Health Engagement is Simplified
The intuitive and interactive information hub provides social, health, and wellness engagement for resident's (mind, body, and spirit) — all from the TV.
Reduced Staff Workload
Increased resident independence coupled with automated service and maintenance requests help reduce burdens on staff.
Increased Transparency
Family members can share information directly with residents and leverage a birds-eye view of the resident's overall engagement to gauge changes in behavior or socialization habits.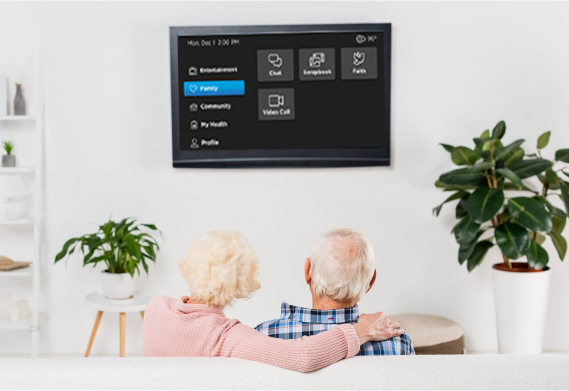 "We are implementing the entire Sentrics360 suite because it integrates life safety, entertainment, engagement and care insights into one complete, easy-to-use solution. The Sentrics team is top notch. And every team member we've met is a quality person with high energy. You can't go wrong partnering with Sentrics."
Joseph Jasmon | Founding Partner at Elevate Senior Living
"Our company has been working with the Sentrics' Sales Team for the last several years. We have implemented the systems and products in 19 of our communities and have seen a drastic increase in the safety of our buildings and the quality of care we can provide to seniors. The Sentrics team has proven to be a great partner for us and we are constantly impressed by the level of customer service they provide."
Nick Dwyer | Development Manager at Dover Development
"For over 15 years, we have used Sentrics Ensure360 products for life safety in our communities. Their products help our residents feel safe and secure. The company's customer service and technical assistance always provide a high level of expertise when supporting our communities. Our Sentrics partnership is greatly appreciated."
Juan Medina | Director of Building Facilities & Maintenance at Merrill Gardens
"After 15 years in long-term care, I can say I have never received such excellent customer service and ease of presentation from a provider."
Kimily Taylor | Executive Director at The Gardens of Germantown Memory Care
"I've used similar systems in the past, but nothing compares to the Sentrics product and its team. Through the Sentrics' training, I've been able to learn how to access data-driven reports that help me provide employee-specific coaching and improve resident care."
Beth Richardson | Executive Director at Arbor Terrace of Johns Creek
"We are very happy working with Sentrics! Not only were you able to install Entertain360 before our cable provider left the market, but our residents love having all the channels that are familiar to them. Your customer support team is very responsive. And although we haven't been able to utilize MessageNOW yet, it was one of the products that sold on your solution as a great way to keep our residents informed, especially during this time."
Chamika Poole, LNHA, RN | Administrator at Butler County Care Facilities
"We are extremely pleased with the TV service we have from the Entertain360 platform. Our Assisted Living residents enjoy the channel selections. Whenever service is needed, the response times are fast and issues resolved quickly. So far, we are a very happy customer!"
Dan Marczak | Business Office Manager at River Glen of St. Charles
"I would not want to work for another community that does not have a Technology Concierge"
LaBaron Hendrieth | Executive Director at The New England Club: A Holiday Retirement Community
Whole-Health Engagement
Keep Senior Communities Connected
By adding a simple device and a senior-friendly remote control to the TV, Engage360 turns every television into an engagement engine. Residents can see what's happening in the community, request services, sign up for activities, add items to their personal calendars, and even resolve calendar conflicts. Plus, the platform makes it easier to communicate with friends and family.
Engage the Resident's Mind, Body and Spirit
Engage360 offers residents an intuitive and interactive platform that engages the mind, body, and spirit—straight from the TV. For those residents who don't want to–or can't–leave their apartments regularly, the TV provides access to faith services, mood-altering music programs, safe exercises and even mental health content to reduce anxiety and strengthen the residents at their very cores.
Stay Connected to Friends and Family
Through the TV, residents can feel like a part of the family unit by accessing family photos. They can chat with friends and family inside and outside the organization. And they can see when family members have added appointments and reminders to their personal calendars.
Optimize Community Operations
Transform the TV into a tool that staff can use to communicate with residents, identify changes in resident behavior, and reduce inefficiencies. Communities can post safety notifications, dining menus, and activity calendars directly through the TV. When integrated with Ensure360, caregivers can post a message to the resident TV that they are on their way. Engage360 also captures valuable insights about the resident's behavior and mood to help identify and respond to behavioral and social changes before they become an issue.
Provide Families with Transparent Insights
Engage360 gives family members peace of mind, knowing that their loved one is safe, healthy, and engaged. With the Family App, family members can see activities offered by the community, calendared items, and even dining menu options. Because it captures user activity, Engage360 provides a transparent view of behavioral and health history to help families discern fact from fiction.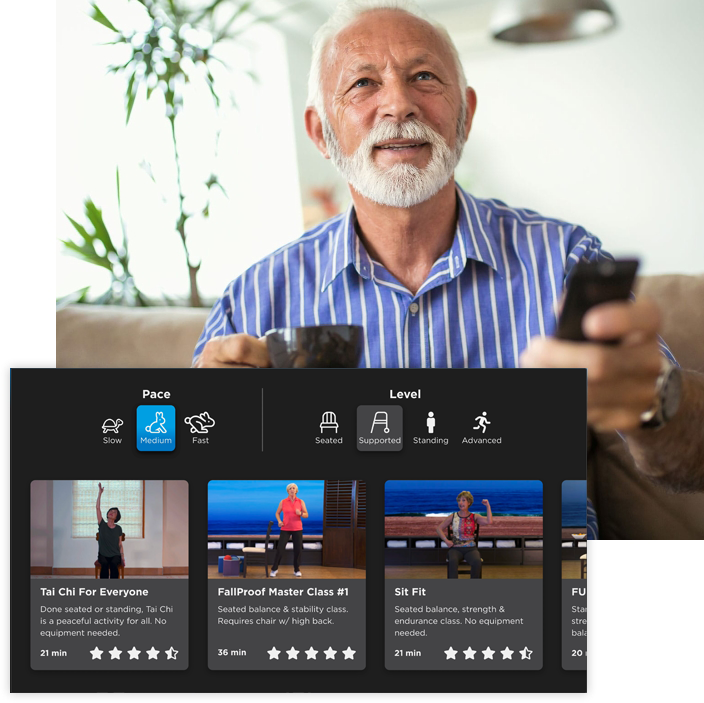 Other Sentrics Solutions

An easy-to-use, all-in-one infotainment platform that integrates resident TV, internet and voice services seamlessly.
Learn more
Tech Concierge Services
Dedicated, highly skilled and trained professionals work regular onsite hours at your community to resolve any issue your residents have from hooking up a new TV to using Facebook for the first time.
Learn more
User Adoption Training
The key to loving new technology is knowing how to use it. Sentrics offers resident training for our Engage360 platform to help residents learn to leverage the social, health, and wellness engagement tools for their mind, body, and spirit health and wellbeing.
Learn more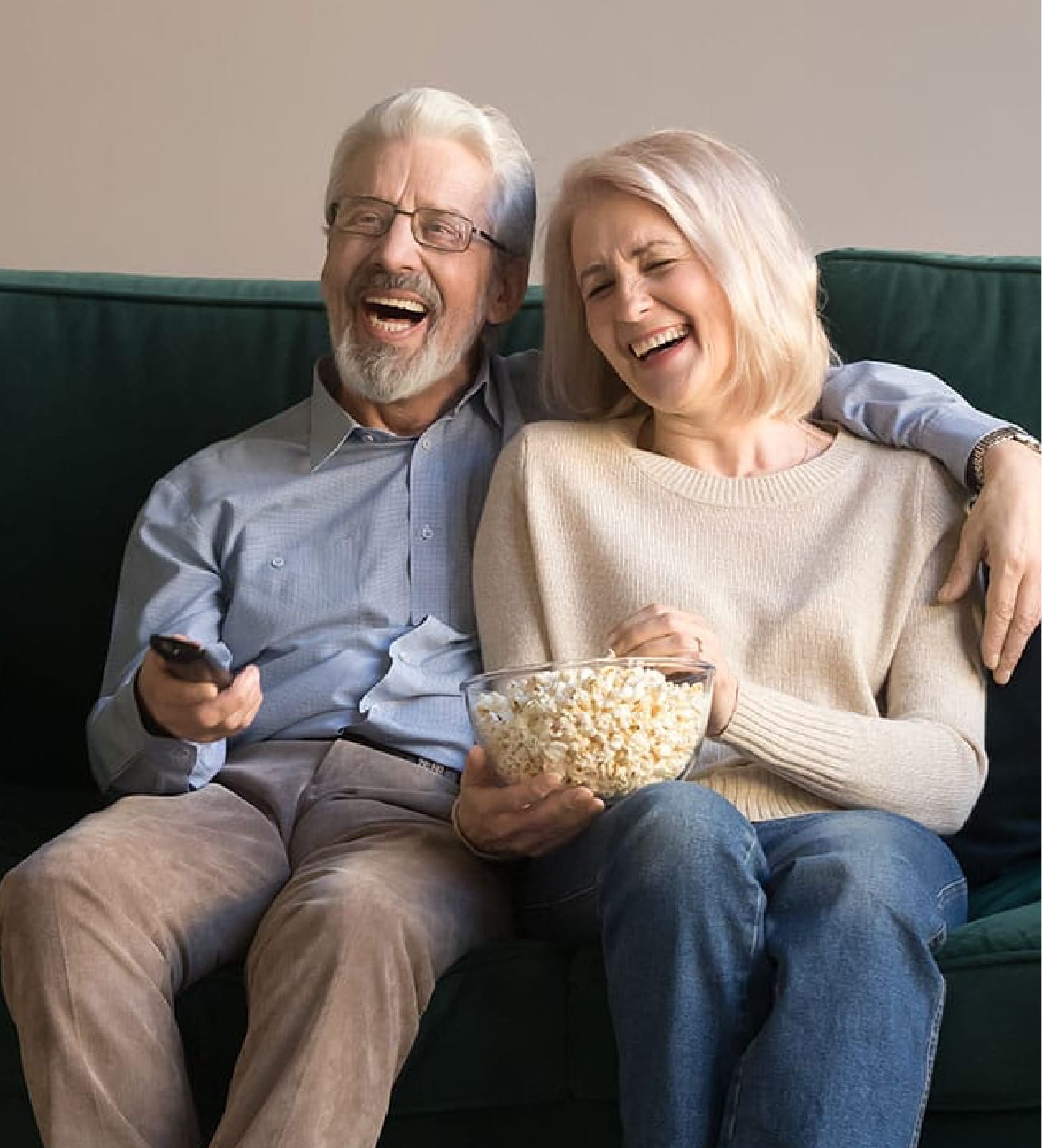 Connect Simply. Engage Fully.
Make your TV a modern entertainment, engagement and concierge engine. Improve staff efficiency, identify behavioral changes, simplify technology options and give families peace of mind. It's all here.