An Entertainment Suite Built for Residents
Television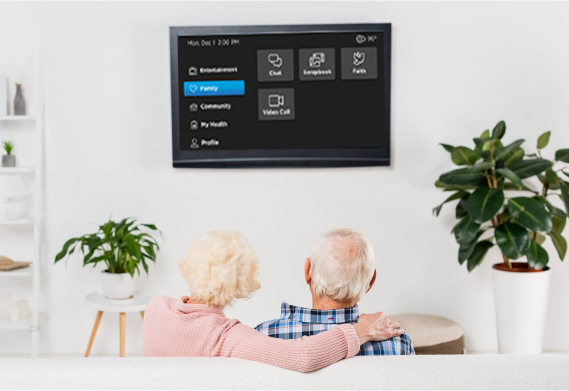 Flexible, community TV programming that can be changed at any time, an interactive guide, and bigger-button remotes and HD televisions enhance the television viewing experience for residents.
Internet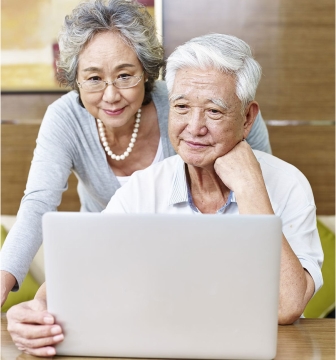 Fully managed, dedicated internet services provide a secure connection to protect your residents and your business data.
Learn More
Voice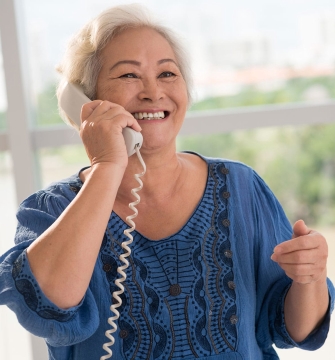 Voice services give residents a way to communicate with flawless connectivity.
Learn More
Entertainment and Communication Made Easy
Entertain360℠ provides a comprehensive made-for-seniors infotainment solution that includes TV, internet, and voice services.
Easy-to-Use
Community controlled and selected TV programming, served up to residents with an intuitive guide and big-button remote, make it easy for residents to navigate and master channel selection.
Bundled Services Make Management Easy
Fully managed services combine TV programming, secure internet, IT and voice with 24/7/365 live-phone support to manage every aspect of your communications needs at a fraction of the cost.
Engagement Engine for all Infotainment Needs
Provides the base for a powerful senior living engagement platform that connects the resident to family and friends inside and outside the community.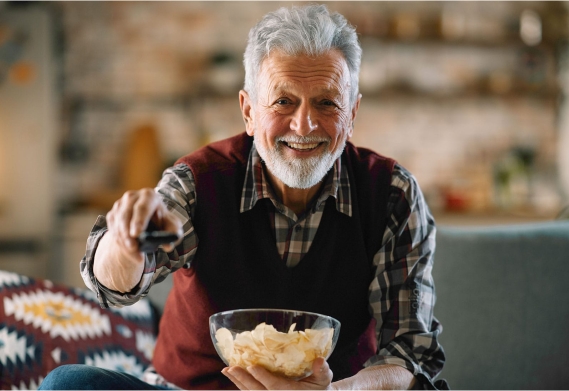 "We are implementing the entire Sentrics360 suite because it integrates life safety, entertainment, engagement and care insights into one complete, easy-to-use solution. The Sentrics team is top notch. And every team member we've met is a quality person with high energy. You can't go wrong partnering with Sentrics."
Joseph Jasmon | Founding Partner at Elevate Senior Living
"Our company has been working with the Sentrics' Sales Team for the last several years. We have implemented the systems and products in 19 of our communities and have seen a drastic increase in the safety of our buildings and the quality of care we can provide to seniors. The Sentrics team has proven to be a great partner for us and we are constantly impressed by the level of customer service they provide."
Nick Dwyer | Development Manager at Dover Development
"For over 15 years, we have used Sentrics Ensure360 products for life safety in our communities. Their products help our residents feel safe and secure. The company's customer service and technical assistance always provide a high level of expertise when supporting our communities. Our Sentrics partnership is greatly appreciated."
Juan Medina | Director of Building Facilities & Maintenance at Merrill Gardens
"After 15 years in long-term care, I can say I have never received such excellent customer service and ease of presentation from a provider."
Kimily Taylor | Executive Director at The Gardens of Germantown Memory Care
"I've used similar systems in the past, but nothing compares to the Sentrics product and its team. Through the Sentrics' training, I've been able to learn how to access data-driven reports that help me provide employee-specific coaching and improve resident care."
Beth Richardson | Executive Director at Arbor Terrace of Johns Creek
"We are very happy working with Sentrics! Not only were you able to install Entertain360 before our cable provider left the market, but our residents love having all the channels that are familiar to them. Your customer support team is very responsive. And although we haven't been able to utilize MessageNOW yet, it was one of the products that sold on your solution as a great way to keep our residents informed, especially during this time."
Chamika Poole, LNHA, RN | Administrator at Butler County Care Facilities
"We are extremely pleased with the TV service we have from the Entertain360 platform. Our Assisted Living residents enjoy the channel selections. Whenever service is needed, the response times are fast and issues resolved quickly. So far, we are a very happy customer!"
Dan Marczak | Business Office Manager at River Glen of St. Charles
"I would not want to work for another community that does not have a Technology Concierge"
LaBaron Hendrieth | Executive Director at The New England Club: A Holiday Retirement Community
Resident Entertainment. Community Solutions
Customize your Community Channel Lineup
Entertain360 is powered by SeniorTV and includes more programs and channels available than ever before. The customized lineup allows senior living communities to pick and choose entertainment options their residents will enjoy.
Solutions Based on Community Size and Care Level
Every senior community is different. So, every entertainment package and solution should be unique. With Entertain360, you customize the solution to fit your community size and level of care needs, and change it as often as you need to.
Integrated DVR
There are more programs and channels available than ever before. The customized lineup allows senior living communities to pick and choose entertainment options their residents will enjoy.
PlaybackNow
Automated DVD playback to help you deliver a "movie theater" experience in each resident room by scheduling and broadcasting up to four movies or educational content at one time.
MessageNow
A community information channel that transforms the resident TV into a live message board. Use this custom-designed community channel to add images and text easily to a community's daily, weekly, or monthly activities.
Live Events Broadcast
With a simple camera and microphone, turn any room into a broadcast center from which to conduct live activities, religious services, group meetings, and more. By broadcasting directly into apartments, you keep residents safe while bringing the excitement of a community event to them.
MassCall
A simple and easy way to instant-message residents and family members with emergency messages and scheduled notifications. It even helps you send messages directly to family members.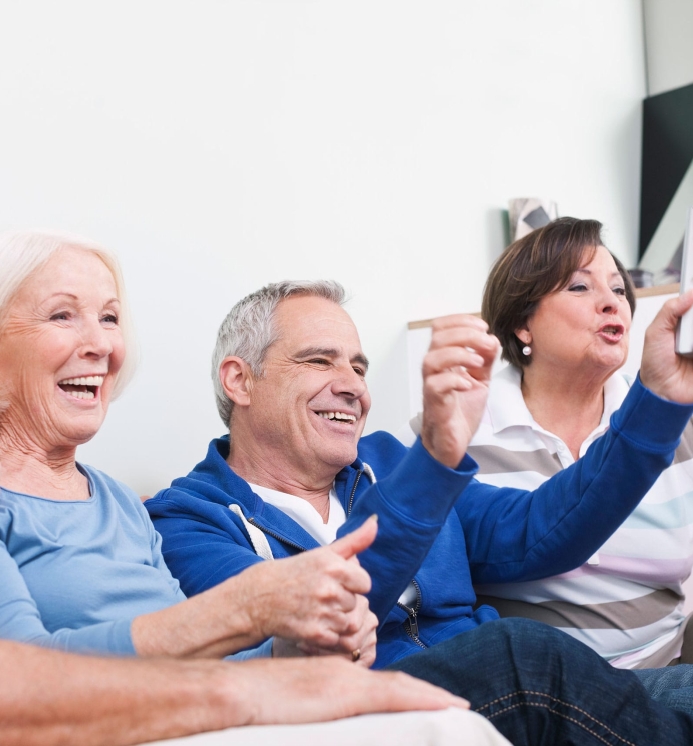 Other Sentrics Solutions
Tech Concierge Services
Now you can have dedicated, highly skilled and trained professionals, who work regular onsite hours at your community, support your residents and staff.
Learn More
Managed Services
Finally maintenance, management and 24/7/365 monitoring for TV, internet, IT and voice services means you can focus on running your community while we take care of your technology. Simply press *123 to access a live person in our Ohio-based center. No automated recordings. No frustrating phone trees. Just a helpful person trained to handle any issue you have.
A powerful, interactive platform that engages a resident's mind, body and spirit as well as helps them interact with the community, family and friends, right from the TV.
Learn More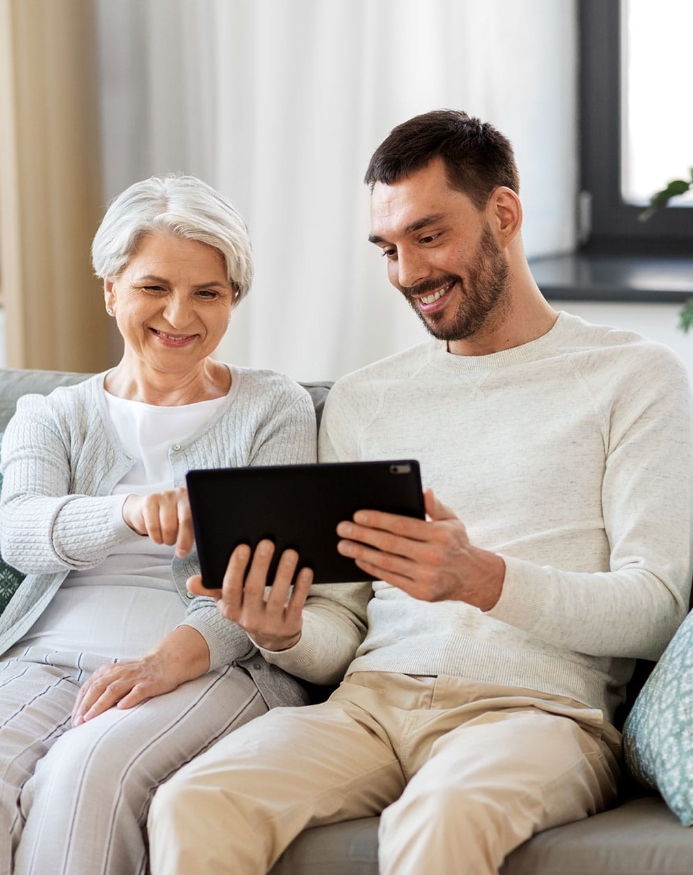 Bundled Voice and Internet Services Simplify Management
You can bundle TV programming, internet, voice and IT for the ultimate experience. Eliminate multiple contracts. Minimize vendor management. Simplify your technology management, including provisioning services and porting of phone numbers. You can even use the internet and voice services to meet your back-office business needs.
Internet speeds start at about 15 Mbps for all residents with the option to upgrade up to 25 Mbps, 50 Mbps, and 100 Mbps. This powerful service prioritizes and protects internet traffic so usage is not shared across the community. Residents can connect all of their favorite devices with no restrictions, including printing wired or wirelessly. Your community can also have technical questions answered by dialing *123 to connect to a live technician in our Ohio office.
Minimize Technology Headaches
As technology changes, so does the user experience. Entertain360 is designed for the senior community. That means fewer cables, fewer devices, and fewer headaches for staff and residents. And you can choose to have it fully managed for you.
Create Additional Revenue
Wholesale prices let you offer your residents TV, voice, and internet services at no net cost or, in many cases, a net profit.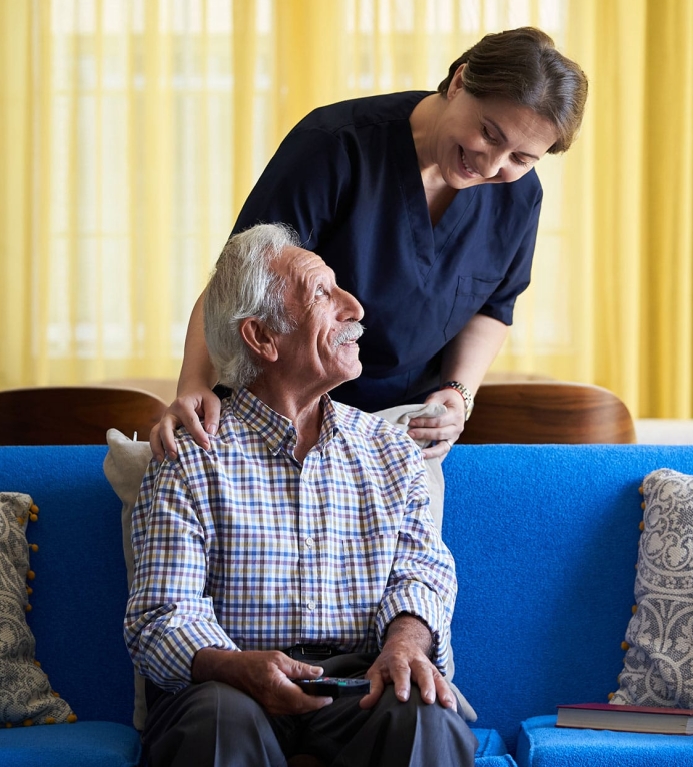 A 3-in-1 Entertainment Hub
Entertain360 is the easy-to-use, 3-in-1 entertainment solution that lets residents watch TV, access the internet, and talk with families and friends at a bundled price that works for you.