About Sentrics
Founded in 2016, with a total focus on improving the quadruple aim of healthcare, Sentrics is revolutionizing the future of senior living and acute care. The Sentrics suite of data-driven solutions helps families, senior living communities, and healthcare providers deliver the highest quality of care and a more personalized experience for seniors and patients.
The Sentrics vision aligns with five core objectives:
Improve resident and patient experience, safety and health
Create a better staff experience
Intervene and prevent adverse health events
Support emerging healthcare reimbursement and primary care models
Maximize IT ROI for senior living communities and hospitals
Join Our Team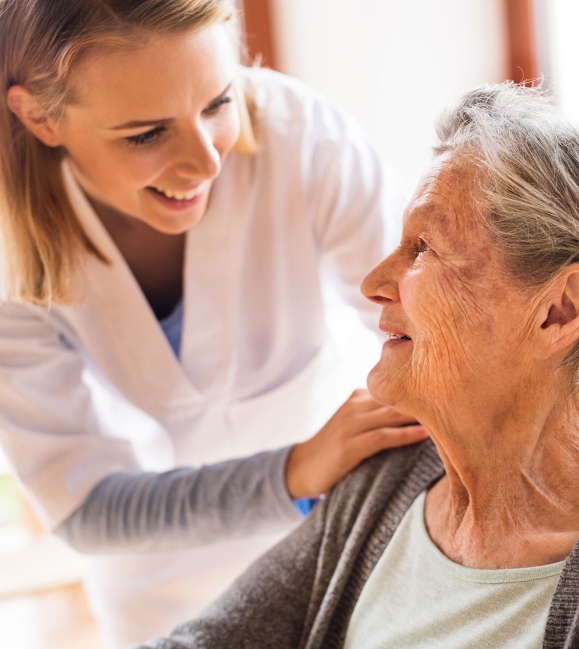 SENTRICS FOR SENIOR LIVING AND ACUTE CARE EXCELLENCE
Sentrics started with a single mission: to revolutionize senior living communities. Our suite of technology solutions—known as Sentrics360—leverages powerful data processing and machine learning to give communities comprehensive visibility over the residents in their care and support a resident's physical, medical, social and behavioral needs.
Sentrics then expanded from the senior living community into the hospital environment with the acquisition of Allen Technologies—a market leader in acute care patient experience tools. Now, the Sentrics E3 technology helps transform the patient room into the smart hospital room of the future, improving patient control, two-way communication, and clinical efficiency.
Meet The Team
"After 15 years in long-term care, I can say I have never received such excellent customer service and ease of presentation from a provider."
Kimily Taylor | Executive Director The Gardens of Germantown Memory Care

About Ciscor
Innovative, fully integrated wireless, hardwired and hybrid OneSource emergency call systems for senior living facilities, correctional facilities, hospitals, campuses and office buildings from coast-to-coast.

About Allen Technologies
The proven E3 Patient Experience Platform gives hospital patients in-room access to educational content, entertainment, and medical information that puts the patient in control of the care experience, delivers integrated communications and drives clinical efficiencies to improve care quality. About SeniorTV
Robust television entertainment services tailored to aging adults and senior living centers, including automated movie playback systems, community TV message channels, high-speed Internet service, and user-friendly, energy-efficient LED televisions at fair prices.
In Memory of Rick Briggs About Silversphere
Sophisticated Silversphere life safety and emergency call systems help senior living developers and operators run a better business and maximize the quality of life for their residents through technology.

About CareConnect
Wholesale communications and entertainment solutions for the senior living industry, delivered via the award-winning CareConnect product.

About LunaLights
Automated lighting and behavioral trending analysis to keep older adults safer at night.

About Connected Living
Connected Living has been providing innovative technology solutions to the Senior Living and Healthcare industries for well over a decade.
Sentrics Values
Sentrics follows a servant leadership model and operates according to five core values:
Integrity
We seek to model honesty and transparency in both communication and action. We know that we are only as good as our last client interaction. Trust must be built, respect earned. We never blur the line.
Authenticity
Being authentic lies at the heart of an honest and mutually beneficial relationship. We understand that we are NOT (nor can we be) everything to everyone. We are focused on who we are and what we can do well for our clients and ourselves. We believe in servant leadership with our clients, team members, shareholders, and community. And we will always make the hard decision to do the right thing.
Passion
We have an intense desire to leverage powerful technologies to improve the lives of patients and residents. We promise to give everything we have to serve our clients, coworkers, and stakeholders. As a team, we are dedicated, enthusiastic, focused, and engaged. We long to be better than our competition not just for financial gain, but because we truly believe we can be the best and make a tangible difference in the world.
Innovation
The status quo is never enough. We are a technology organization that thrives on innovation and strategic thinking—always seeking to push the boundaries of what's possible. This is how we're hard-wired. It's how we operate. We reward thinking ahead and "outside of the box." Mistakes made in the name of optimization give us an opportunity to learn, improve, and keep striving for more.
Love
We believe in love as a VERB. Lived out, love is patience, kindness, respect, forbearance; it's never boastful or arrogant. We believe that everyone deserves this kind of love. We honor and expect this in our workplace.