The Causes of Hospital Background Noise
INDUSTRY CHANGES SPUR NEW SOLUTIONS TO AN OLD PROBLEM
Hospitals are inundated by noise. From the constant movement of patients and staff to the buzzing and ringing of medical alerts, intrusive background noise (AKA ambient noise) is an ever-present reality for patients. Patients have been complaining for years, but given the demanding, around-the-clock operations of hospitals, they have been challenged to find real solutions to ensure quieter and more restful environments.
However, recent changes in the healthcare industry and new research is starting to change all of that. Liz Ernst, a blog writer for Acoustiblok, Inc. (which provides soundproofing solutions), weighs in on the matter,
"Thankfully, old attitudes toward noise are changing, albeit at a snail's pace, as noise pollution studies in recent years have proven the damaging effects of noise on human health, and as focus in hospitals is turning toward patient satisfaction. New policies linking hospital reimbursement to patient satisfaction are central to changes being made to lower the volume in hospitals so that patients can get better."
In light of these industry changes, this article will address the top causes of hospital noise and offer some solutions for turning down the volume. For healthcare providers looking to increase patient satisfaction, receive higher HCAHPS scores, and improve their patient outcomes, the information provided here should prove a useful vantage point.
THE MAIN CULPRITS OF AMBIENT NOISE IN HOSPITALS
The sources of sound in hospitals are as numerous as the quantity of people who walk their halls and occupy their rooms. But since we want to understand which sounds cause the most harm to patients, a great place to look is the individual hospital room.
Here's what we found caused the most offense:
The sounds of medical equipment
Noisy nurse stations
Medical equipment
Cell phones, pagers, and alarms
Other patients and visitors
"All these sounds make up the steady assault of beeps and bustle during a typical night in a hospital bed. More hospitals are getting creative about lowering the noise level, masking intrusive sound and distracting patients from the cacophony."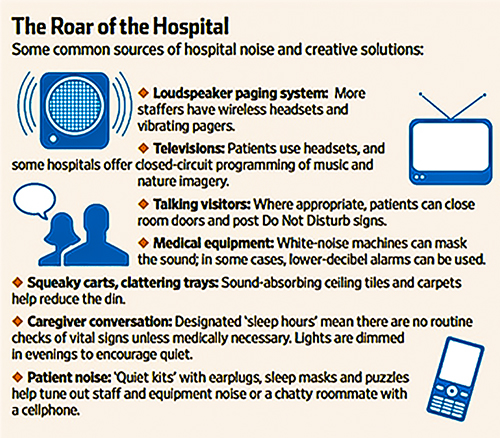 SOLUTIONS TO REDUCE HOSPITAL NOISE
Having now identified some of the primary causes, we can consider solutions to help reduce the noise. In our published backgrounder from last year, we outlined several solutions hospitals are using:
Minimizing environmental factors contributing to ambient noise levels
Having patients wear earplugs or noise-canceling headphones to sleep
Educating nurses about the sleep process, existing noise sources and how to minimize disruptions
Instituting "quiet hours" during which patient doors are closed, pagers are set to vibrate and the overhead paging system suspended
Playing soothing music to encourage the quality of patient sleep and relaxation
Using sound masking or white noise systems to enhance sleep quality
Redesigning the environment to reduce ambient noise, e.g. ceiling tiles, doors, carpeting and nursing station placement
Ironically, what can be a source of noise elsewhere – a television – can actually be a solution to this problem for patients, by taking advantage of an interactive patient engagement system. These systems, deployed on patient room televisions or bedside touchscreen units or tablets, are powerful tools that give patients access to their medical records and diagnosis-specific medical information.
In their quest to enhance the patient's experience while in the hospital, and improve satisfaction scores, hospitals are recognizing that they can be so much more. They can be a key driver in making a hospital experience much more hotel-like by giving the patient access to and control over a myriad of services and room comfort features.
So, how could such a system help alleviate intrusive sounds?
With soothing music, of course. As part of an interactive, integrated system, a patient room TV not only can be a source of entertainment and patient education, but also become a patient's personal lullaby. Instead of hearing annoying beepers and hallway talk, patients can be lulled to rest with calming nature sounds. Ambient noise reduction modules like those offered at Sentrics can even be set to specific play lengths; once the soothing sounds begin, the TV screen goes black so the patient isn't later awakened to a white screen.
WHICH SOLUTIONS WILL YOU TRY?
While intrusive ambient noise will always be a reality in some form, hospitals around the country have begun to make meaningful, effective strides toward reducing the problem. As a result, their patients are seeing (or rather, hearing) the difference. They are getting better sleep and achieving faster recoveries. And these hospitals are achieving increased HCAHPS scores that reflect their improvement. Which noise-control solutions are worth a try at your hospital?