Predict and Prevent. Senior Living Transformed.
Enrich℠ is a powerful platform that integrates and analyzes 360-degrees of resident data to predict adverse events so your team can act early to prevent or minimize them.
Learn More
Improved Resident Experience and Care
The dynamic platform provides senior living communities with data-driven predictions that drive preventative actions to improve resident care.
Improve Care and Reduce Risk
A constant cadence of insights to actions, fueled by the knowledge of a resident's social, behavioral, physical and medical status, gives operators confidence that they can balance risk and outcomes.
Retain Employees Longer
Enrich provides senior living communities with the actionable insights they need to improve employee satisfaction, increase staff productivity, and reduce staffing turnover.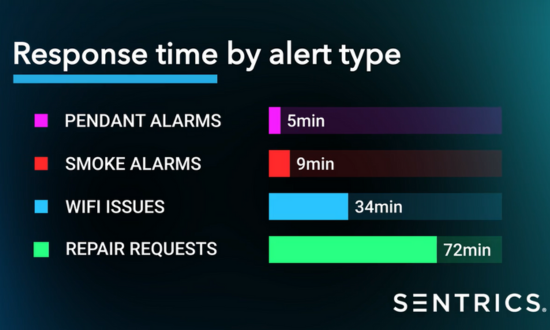 Actionable insights generated from:
Location data
Movement data
Sleep patterns
Activity patterns
TV patterns
Socialization trends
Community engagement data
Lifestyle and Interest data
Third-party integrations
Learn More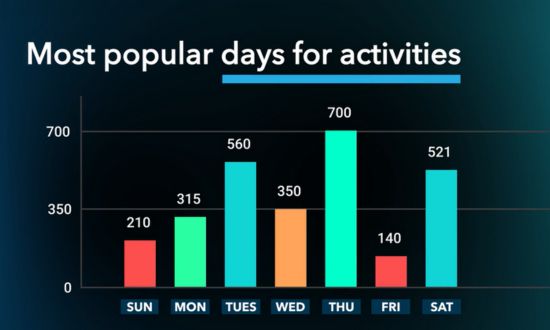 "We are implementing the entire Sentrics360 suite because it integrates life safety, entertainment, engagement and care insights into one complete, easy-to-use solution. The Sentrics team is top notch. And every team member we've met is a quality person with high energy. You can't go wrong partnering with Sentrics."
Joseph Jasmon | Founding Partner at Elevate Senior Living
"Our company has been working with the Sentrics' Sales Team for the last several years. We have implemented the systems and products in 19 of our communities and have seen a drastic increase in the safety of our buildings and the quality of care we can provide to seniors. The Sentrics team has proven to be a great partner for us and we are constantly impressed by the level of customer service they provide."
Nick Dwyer | Development Manager at Dover Development
"For over 15 years, we have used Sentrics Ensure360 products for life safety in our communities. Their products help our residents feel safe and secure. The company's customer service and technical assistance always provide a high level of expertise when supporting our communities. Our Sentrics partnership is greatly appreciated."
Juan Medina | Director of Building Facilities & Maintenance at Merrill Gardens
"After 15 years in long-term care, I can say I have never received such excellent customer service and ease of presentation from a provider."
Kimily Taylor | Executive Director at The Gardens of Germantown Memory Care
"I've used similar systems in the past, but nothing compares to the Sentrics product and its team. Through the Sentrics' training, I've been able to learn how to access data-driven reports that help me provide employee-specific coaching and improve resident care."
Beth Richardson | Regional Director of Operations at Arbor Terrace of Johns Creek
"We are very happy working with Sentrics! Not only were you able to install Entertain360 before our cable provider left the market, but our residents love having all the channels that are familiar to them. Your customer support team is very responsive. And although we haven't been able to utilize MessageNOW yet, it was one of the products that sold on your solution as a great way to keep our residents informed, especially during this time."
Chamika Poole, LNHA, RN | Administrator at Butler County Care Facilities
"We are extremely pleased with the TV service we have from the Entertain360 platform. Our Assisted Living residents enjoy the channel selections. Whenever service is needed, the response times are fast and issues resolved quickly. So far, we are a very happy customer!"
Dan Marczak | Business Office Manager at River Glen of St. Charles
"I would not want to work for another community that does not have a Technology Concierge"
LaBaron Hendrieth | Executive Director at The New England Club: A Holiday Retirement Community
The Engage360 system setup was a breeze. The remote control programming was the easiest I've encountered, no searching or input codes needed. By far, Engage360 was simple, and stress free compared to other systems in the market.
J Edwin Perez | Director of Environmental Services at Sonata West
Sentrics has assembled a suite of services that bring to market unified solutions. No longer do we have to piece together numerous platforms. We rely on their Infinity program to help us keep our trusted solutions up to date while allowing us to easily budget our costs.
Tony Kennard | Chief Information Officer and Partner Common Sail Investment Group
I'm so excited about the new voice technology! Navigating Engage360 is much easier; I just say what I want! I live by the KISS philosophy—just keep it simple—and that's what this voice technology does!
Nancy Bossert | Sonata West Resident
The best selling point is that it is easy, easy, easy! Easy to install, you just plug it in; easy for residents to activate from a familiar device they already have; and easy commands that help residents navigate Engage360 simply.
Brook Ellis | Regional Director for Sonata West
Powerful Predictions Deliver Better Results
Predict and Prevent Adverse Outcomes
Enrich takes data from the Sentrics360 suite, integrates it, analyzes it, and applies machine learning to turn thousands of meaningless data points into prescriptive models that inform decision-making and improve healthcare outcomes. Used effectively, your team can act to prevent an event, instead of reacting to an alert.
Make Predictions That Matter
In 2015, the total cost for falls was more than $50 billion, for which Medicare paid 75% of the costs. Predictive models that can identify opportunities for senior living communities to minimize risk and improve care are critical. That's why Enrich includes a powerful fall prediction tool.
Deliver Data for a New Era
Senior living has changed. It has evolved into something more, something better, something more inclusive. The era of "just hospitality" is gone. Now, seniors require a system that also emphasizes safety, healthcare, and risk management in a dignified way that encourages independence. To achieve these goals, you need a data analytics platform that helps you improve outcomes and reduce risk.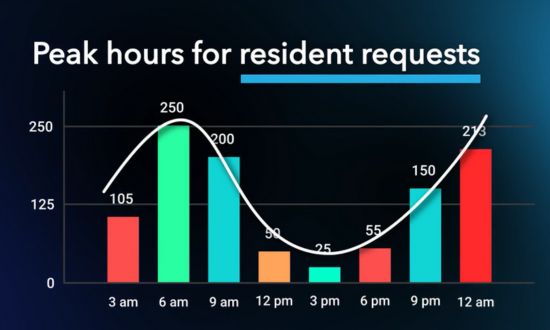 Better Results Through Actionable Insights
Do I have to use all of the Sentrics360 platform solutions to leverage Enrich analytics?
Enrich integrates and correlates the minute data that each of the Sentrics360 solutions (Ensure, Entertain, and Engage) gather and analyzes it to find trends. You have to use at least one of the Sentrics360 platforms to use Enrich. While you gain the most insights and predictions when you use all four platform solutions together, it is not required.
How does Enrich work?
Enrich integrates and correlates tens of thousands of data points a day from multiple platforms, analyzes them, and then applies machine learning and artificial intelligence to predict outcomes and deliver them in an easy-to-understand way caregiver knows what action to take.
Do I have to buy a separate analytics platform?
Enrich includes everything you need to integrate, analyze, and present the data from the Sentrics360 platforms.
Other Senior Living Solutions

Real-Time Location System(RTLS) based eCall for new construction and existing locations.
Learn More

Made for senior living infotainment solution with TV, internet, voice, and bundled services.
Learn More

Communicate to WHO you want, WHEN you want, HOW it is best received.
Learn More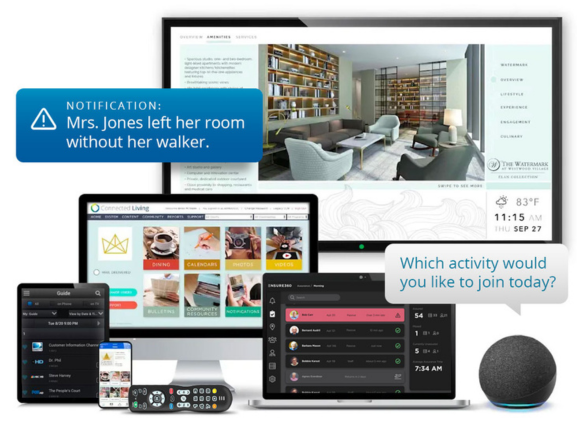 Data For Insight & Action
With Enrich, your senior living community leverages powerful AI and machine learning technology to move from reacting and responding to predicting and preventing.