Proactive Care Solutions Suite

Ensure360℠ combines the industry's best eCall systems, sensors and a robust integrated rules engine with RTLS technology, contact tracing, and case management to keep residents safe, improve caregiver efficiency, and reduce the risk and expense of adverse events.

Entertain360℠ combines SeniorTV services with integrated DVR; an interactive, intuitive guide; in-room, dedicated internet; and sophisticated voice services to give residents a modern, tech-based entertainment experience. 

Engage360℠ is a powerful, interactive platform that engages a resident's mind, body and spirit as well as helps them interact with the community, family and friends, right from the TV.

Enrich360℠ is an AI-based solution that integrates and correlates tens of thousands of data points a day from each of the platforms—plus third-party solutions—analyzes them, predicts outcomes and delivers insights in an easy-to-understand visual way so that the caregiver knows what action to take.
Transform your community from reactive to proactive care
Only Sentrics delivers an integrated view of your residents to help you transition your operations from reacting and responding to alerts, to anticipating and acting to prevent adverse actions. You'll love it because its predictive analytics will help you minimize risk and optimize workflow while reducing cost! Your staff will love it because they will have access to insightful data in one place that will allow them to be proactive instead of reactive! Your residents will love it because it maximizes their independence safely while engaging them and their families more meaningfully.
Schedule a Demo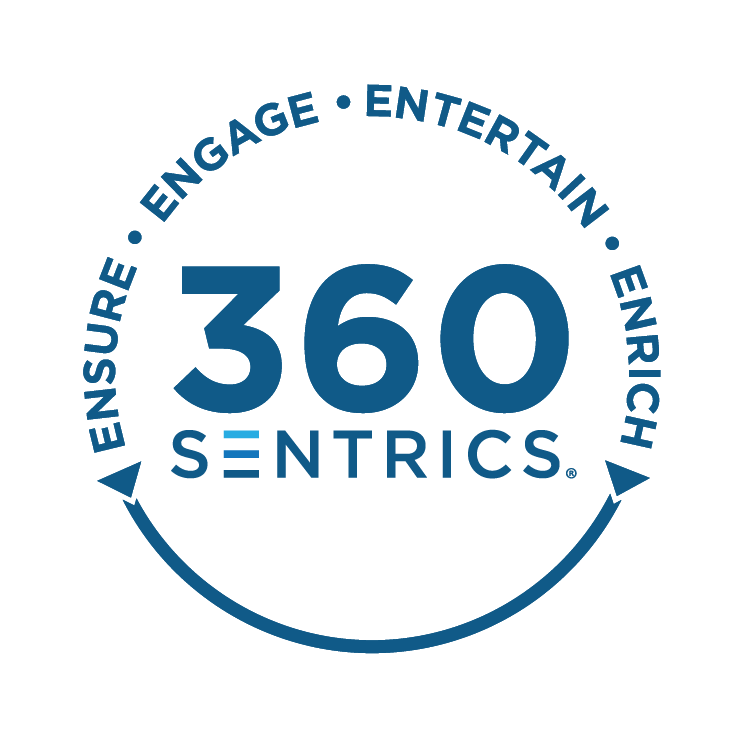 Four Components. One Powerful Solution.
Sentrics360 is a comprehensive, data-driven software suite with four cornerstone technologies—Ensure360, Engage360, Entertain360, and Enrich360—that delivers a 360-degree view of the residents to help your staff transition from reactive to proactive care.