Top Patient Engagement Trends in 2020
It has been a decade since President Obama signed into law the Affordable Care Act – March 23, 2010 – shifting healthcare delivery into the value-based delivery model. Now, as we enter a new decade, hospitals also are entering a new era of patient engagement. What can we expect next when it comes to improving the hospital experience? Here's what we see ahead.
MORE FOCUS ON HUMAN-CENTERED TECHNOLOGY
It is virtually impossible to attend a healthcare industry trade show or pick up a trade publication without being bombarded by technology pitches. For a busy chief nursing officer, adopting yet another gadget, process or platform that adds more work and more stress to their day is not the answer to improving patient care. Nor is it the answer to improving nurse satisfaction and retention.
Already, nurses spend about a third of their time on technology – much more so than the 7.2% spent on bedside patient care.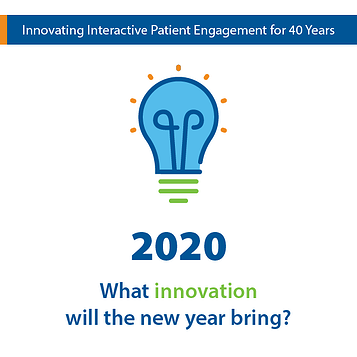 Amazingly, less than one in five healthcare executives say they consider the human impact when making a technology purchasing decision. But as hospitals compete for the best clinicians, just having the latest bells and whistles will fall short if they don't factor in the impact to the end users. Human-centered technology tools will become a competitive game changer this year. If an interactive patient engagement solution can reduce –not add – administrative workload to nurses, nurse satisfaction increases and with it, patient satisfaction. The IHI underscored the importance of that human dimension when it added it to the Quadruple Aim. The reality is that happy nurses lead to happy patients, and happy patients are healthier, more engaged patients.
PATIENTS AS CONSUMERS
The hospital industry has been slower than others to recognize the influx of consumerism, and adapt to it, but that is changing. Michael Dowling, CEO of Northwell Health and chair of the Institute for Healthcare Improvement, noted at a recent Enterprise Ireland North America Healthcare Forum, "The connection between healthcare and the consumer is behind. Healthcare in general has never been consumer-focused in the way it should. They have been patient-focused."
Increasingly, though, the consumer is driving the patient experience. Consumers expect convenient access to informative health education. They want to control their own experience while in the hospital, whether it is adjusting their room temperature or ordering a meal when they want it. Northwell Health hospitals like Northern Westchester Hospital and Phelps Memorial Hospital recognized the consumer trend years ago. Today they offer patients access on patient room TVs and bedside touchscreens to education, entertainment and comfort controls –and even tools to give immediate feedback on their experience. Interactive patient engagement solutions like Sentrics E3 give patients-as-consumers access to what they want, when they want it – creating a more hotel-like, consumer-driven hospital experience.
HELLO DIGITAL WHITEBOARDS
Poor communication is one of patients' biggest beefs with hospitals. A decade or so ago, many hospitals began utilizing dry erase boards in patient rooms to increase communication between hospital staff and patients.  Digital whiteboards are now being incorporated directly into the interactive patient system with better results. As part of today's hospital smart room, a Sentrics E3 system pulls patient data directly from the EMR where it can be continually, seamlessly updated on the patient room TV. As we enter a new decade, old-school dry erase boards' days are numbered.
MEASURING EXPERIENCE AT THE BEDSIDE
Post-discharge feedback on HCAHPS surveys will continue to be a foundational piece of consumer satisfaction tools. But hospitals are recognizing that feedback received long after the patient is discharged does nothing to correct a service shortfall in the moment. Creative real-time feedback tools through interactive patient engagement systems like Sentrics E3 are enabling hospitals to hear from patients at the precise moment they have a question or concern – and address the issue quickly. Daily check-in snapshot surveys are also proving effective in gathering at-a-glance regular feedback from patients. One hospital saw a 12% jump in HCAHPS and 470% increase in patient feedback simply by putting real-time survey tools at the patients' fingertips on the Sentrics E3 system.
A DICTATE FOR BETTER DISCHARGE PLANNING
A recent survey showed that nearly half of hospital patients – 48% – still don't understand their discharge instructions. In the same survey, only a handful of hospitals said they use patient engagement technology to improve discharge readiness.
Hospitals are discovering that smart-room technology is a no-brainer for enhancing discharge readiness. Sentrics' E3 patient engagement solution integrates with the EMR, as well as ancillary departments like pharmacy, to ensure patients are fully educated and equipped before leaving the hospital.  Hospitals using the Sentrics E3 patient engagement solution far outpaced others on CMS discharge readiness score improvements over six years of HCAHPS reporting. Collectively, Sentrics hospitals have improved discharge readiness HCAHPS ratings by 3.57% during that time – far ahead of the national average of 2.35%. In 2020, we can expect more hospitals will realize the ROI of leveraging the interactive system for discharge planning.
Sentrics has been innovating interactive patient engagement solutions for 40 years. Learn more at www.EngageWithAllen.com.